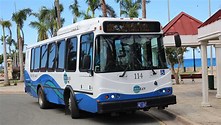 The U.S. Department of Transportation allocated $4.1 million for the V.I. Department of Public Works and Virgin Islands Transportation (VITRAN) to prevent, prepare for and respond to COVID-19. The Coronavirus Aid, Relief and Economic Security (CARES) Act was signed into law on March 27, 2020, and contains $25 billion for transit agencies throughout the United States to fund operating costs and lost revenue.
"VITRAN is a critical lifeline for many Virgin Islanders, and this funding will provide much needed support so we can continue to provide essential public transit services for both our fixed route and Americans With Disabilities Act paratransit clients, as well as medical transportation for kidney dialysis, cancer treatments and other critical care," said Deputy Commissioner of Transportation Karole Ovesen-McGregor.
This funding can be used for purchasing personal protective equipment for staff, paying administrative leave, training for social distance, testing for COVID-19, as well as the sanitizing of buses, bus shelters, transfer stations and depots.
Follow the Department of Public Works on Facebook, Instagram and YouTube. People can also log on to dpw.vi.gov and www.vitranvi.com to stay abreast of all things V.I. Public Works.