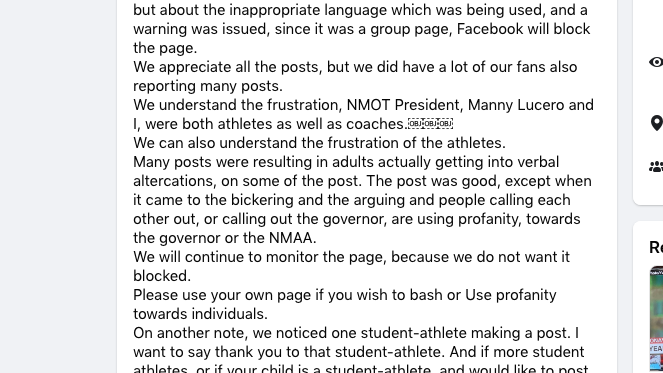 Learn to play nice, people.
You hear it all the time. Refs say it to players, teachers stay it to students, lifeguards shout it to kids splashing in the deep end.
Heck, your parents have said it a million times — like that one Halloween when your big brother strength-tested your light saber on the back of your skull when you were playing Madden.
For a few dozen adults, the proverbial line in the sand was drawn Friday morning when Facebook issued a warning to the creators of New Mexico Overtime Sports, saying a series of comments went too far with foul language and threatening remarks. The social media giant threatened to shut the popular fan page down if things didn't get under control.
It stemmed from Thursday afternoon's decision by Gov. Michelle Lujan Grisham to not update a public health order that prohibits organized sports from taking place. The governor's refusal to give the green light for the return of youth sports canceled extracurricular events for the rest of the year.
The blowback from angry and frustrated parents was immediate.
"We expected things to kind of blow up and they did," said New Mexico Overtime Sports founder Manny Lucero. "It's not the first time we've had something big happen that gets people like this, but [Thursday's] news got out of hand."
A series of posts generated hundreds of comments ranging from support for the governor to ugly arguments between people on either side of the discussion. As is typically the case in social media forums, it got ugly fast.
"You know, you want to have a discussion or even an argument, that's fine," New Mexico Overtime Sports administrator Richard Tripp said. "We encourage a healthy dialogue. We want people to do that. It goes too far, though, when it starts using bad language or saying things that can be considered, you know, threatening to someone else. We don't want name-calling, and any time someone says something bad about things like a kid, a coach or even the governor, it gets out of hand."
Lujan Grisham was the target of several posts, but some were directed at the New Mexico Activities Association and others who support the state's call for shutting things down amid the recent spike in COVID-19 cases. That dramatic rise in cases are at the heart of the prolonged health order that began during the high school state basketball tournament in March when the NMAA staged the final three days of the weeklong event without fans.
That led to the cancellation of spring sports and nearly seven months of mask-wearing, social distancing and remote learning.
Lucero said he understands the frustration people have with the state's health orders and he's fine with people airing those frustrations on the site's page so long as its done the right way. He launched the NMOT Sports Center website in 2007 with the idea of promoting high school sports, its athletes and its various news topics in a positive light.
He wanted it to be an alternative site to TheOldCoach.com, a site whose wildly popular forums were often little more than bash sessions on coaches, players, referees and everything in between. It was, Lucero said, counterintuitive to the idea of promoting youth sports and all the good that comes with it.
By 2010, the NMOT site transitioned to Facebook where its popularity has grown slowly and steadily. As of this week, it had more than 10,900 followers, many of whom jump into discussion points ranging from scores to standout performances and timely NMAA subjects like district realignment, playoff pairings and, yes, the coronavirus.
Lucero and Tripp monitor the site daily, stepping in whenever the need arises.
"People say that's not true journalism, but to that I say it's not meant to be," Lucero said. "There's no freedom of speech here. Your freedom of speech isn't whether or not I agree with you. I don't mean you have to agree with my points. I'm saying that it can't be negative, it can't be political."
Both men admit that a politically charged topic like a state-mandated health order and the elimination of youth sports can sometimes blur the lines, but the truth is that there is such a thing as taking a point too far — and many of the page's followers did just that Thursday night.
As of Friday evening, the site was still up and running, the vile posts that garnered Facebook's attention long since removed by Tripp and Lucero. Still, more than 750 comments on a handful of posts stemming from Thursday's announcement were still up.
Tripp took the time Friday morning to warn NMOT followers that Facebook was threatening to take the page down. The first few comments were understanding and supportive but it quickly turned into a prolonged debate with angry parents spewing random statistics and semi-informed opinions about why the shutdown should or should not continue.
"People can't help but argue sometimes," Tripp said. "You know, that's the problem here; it's always the adults. They always say it's for the kids, it's in a kid's best interest, it's all about the kids, but really it's not. People lose track of what they're arguing about sometimes."
Of the hundreds of posts, Tripp said only one was from a prep athlete. Hunter Riddick, a senior at Aztec High School, wrote a long post imploring the governor to hear the plea of teenage athletes and let kids play. He wrote about how sports helped him overcome diabetes and, in his own words, a lack of size, speed and athletic ability to find an inner gear that allowed him to succeed.
"That was beautiful," Tripp said. "Here you have all these adults, the parents and the grandparents and the coaches — they're fighting and using bad words, saying bad things about other people. Not all of them, but a lot of them. Then you've got a teenage kid with a message that means something. That's what we need more of, you know? Not enough kids come onto our site, and I wish they would."