Dia De Muertos – Cannabis and Calavera Cookies
It's about 'high time' that we highlight Dia De Muertos – Cannabis and Calavera Cookies!
A few years back I travelled to the gorgeous island of Cozumel, in the Caribbean Sea off the eastern coast of Mexico's Yucatán Peninsula.
A haven of Cruise ships, and expensive couture shops on the famous Melgar Avenue, this little island knows how to celebrate their deceased loved ones!
The incredible part of my trip was that I was there during North American Halloween, or as the Mexican culture celebrates: Dia De Muertos or: Day of the Dead.
One street over from Melgar Avenue is where I found the 'real' Cozumel.
Butcher shops, quaint markets, and an incredible take-home-BBQ treat called Poc Chuc had me wanting more.
Talk about a beautiful sensory overload!
Mexican music flowed into the busy streets while everyone prepared to honor their deceased family members.
Day of the Dead
Day of the Dead is celebrated in Mexico between October 31st and November 2nd.
Mexicans visit cemeteries, decorate the graves, and spend time there, in the presence of their deceased friends and family members.
The entire island was on pause. It was nothing short of captivating.
Everyone was buying up the last of the white face paint-something hard to find on the island and preparing fresh flowers, gifts, and pictures to remember those who have passed.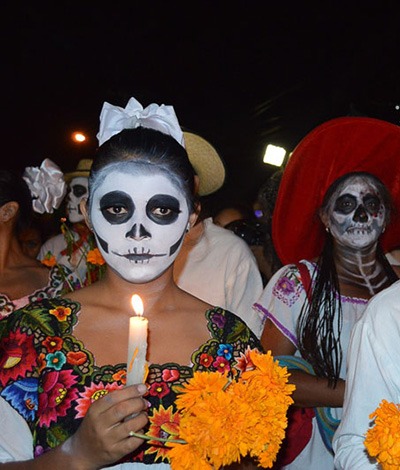 As the day turned into evening, a group of us walked toward the community square, where the celebrations would begin before the candlelight procession.
The feeling was completely spooky but totally mesmerizing.
Everyone, I mean everyone was dressed up and face-painted. Colorful Calaveras (skulls) and Calacas (skeletons) were everywhere.
It was surreal! Even children were dressed up and painted in preparation for the island's traditional activities.
Imagine experiencing Day of the Dead while high?
This experience on Cozumel was one of the highlights of my travels.
It created an authentic, de-commercialized, and honest way to connect with family both alive and dead in an absolutely epic way. Epic!
Dia De Muertos – Cannabis and Calavera Cookies
Create Cannabis Calavera cookies aka: Sugar Skull Cookies with a little spice that tastes so nice!
You can light candles, decorate your home with Mexican-appropriate Day of the Dead décor, skulls, picture frames of relatives who have passed, and create an entire celebration around this.
The beauty of celebrating Dia De Muertos is you can do it all from home, safely and beautifully!
While you're doing this, enjoy the recipe below.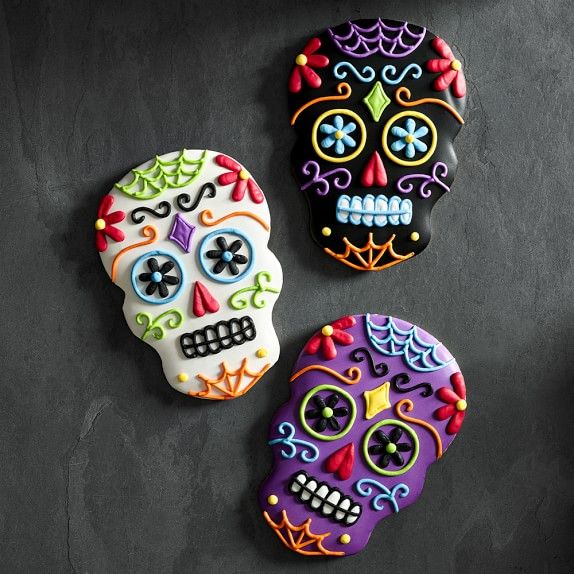 Servings: 6 people
Author: Steph Van De Ven
Cost: 30
Mixing Bowl

Piping Bag

Sugar Skull Cookie Cutters

Oven

Non-stick cookie sheet

Parchment paper if you don't have a non-stick cookie sheet

Electric Hand Mixer

Measuing cups and measuring spoons

Stand mixer

Rolling Pin

Cooling rack

3-5 small bowls for icing ( to use when decorating)
2

cups

all-purpose flour

and more to help the dough become less sticky

1/2

tsp

himalayan salt

1/4

tsp

baking powder

1/4

tsp

chipotle chile powder or ancho chile powder

1/2

tsp

ground cinnamon

6

ounces

Cannabis butter

cool, but not cold

2

tbsp

cold non-hydrogenated vegetable shortening

2/3

cup

granulated sugar

1

large

egg

1

tsp

vanilla extract

2

ounces

dark chocolate

melted and cooled
FILLER ICING
4

cups

confectioners sugar

1/2

tsp

cream of tartar powder

3

large

egg whites

more if needed

1

tsp

fresh lemon juice
DECORATION ICING
3

cups

confectioners sugar

2

large

egg whites

2

tsp

fresh lemon juice

3-4

bottles

various colours food colouring
In a medium bowl, whisk together the flour, salt, cinnamon, baking powder, and chile powder.

1) In the bowl of a stand mixer using the paddle attachment, beat the butter and shortening together on medium speed until just combined.

2) Add the sugar and beat until the mixture is light and fluffy, about 3 minutes.

3) Scrape down the bowl, add the egg and vanilla, and beat until just combined.

4) Add the melted and cooled chocolate and beat until uniform in color.

5) Scrape down the sides and bottom of the bowl, add half the flour mixture, and beat for 15 seconds.

6) Scrape down the bowl again and then add the remaining flour mixture and beat until just incorporated.

Shape the dough into 2 disks (it will be sticky so use flour on hands)
Wrap the disks tightly in plastic wrap and refrigerate for at least 2 hours.

Preheat the oven to 325°F (165°C). Line 2 baking sheets with parchment paper.

Unwrap 1 disk of dough, leaving the other in the refrigerator while you are working, and place it on a work surface lightly dusted with flour.
Dust your hands and rolling pin with a little flour. Roll the dough 1/4 inch thick.

Using your sugar skull cookie cutters, cut the dough and then transfer them to the prepared baking sheets, leaving about an inch of space around each cookie.

Continue the process with the remaining dough. Place the baking sheets in the freezer for about 15 minutes.

Bake the chilled cookie dough, rotating the baking sheets halfway through the baking time, until the tops of the cookies look set and are just beginning to appear dry, 10 to 12 minutes.

Let your cookies cool on a cooling rack.
FILLING ICING & DECORATION ICING:
Combine 3 1/2 cups confectioners' sugar and the cream of tartar. Turn the mixer to the lowest speed to mix them together and remove any possible lumps.
Add the egg whites and lemon juice, and mix until the icing is completely smooth.

** It should be a thick and shiny glaze.**

If the mixture is too thick, add additional egg whites to thin it. If the mixture is too thin, add the additional sugar, 1 tablespoon at a time.

Scrape the icing into a piping bag fitted with a large round tip. Outline each of the cookies with the icing and wait about 10- 15 minutes for the outlines to harden.

REPEAT FOR DECORATION ICING !

Using 3-4 different bowls ( depending on how many colours you want to use):

Add pea-size amounts of food coloring to all the bowls. Keep one bowl that will stay white. Place each color icing in its own pastry bag fitted with a small tip.

Decorate your sugar skull cookies and you can use the image in this recipe as a guideline, be creative and have fun!

Let the décor harden completely before serving, at least an hour or up to overnight.
More Mexican-Inspired Cannabis Cuisine
Want to create even more Cannabis-cuisine? Check out Chili Con Carne, Cannabis Mojitos, or Margarita Jalapeno CBD Cocktails.
You might even love trying to make Cannabis Churros!