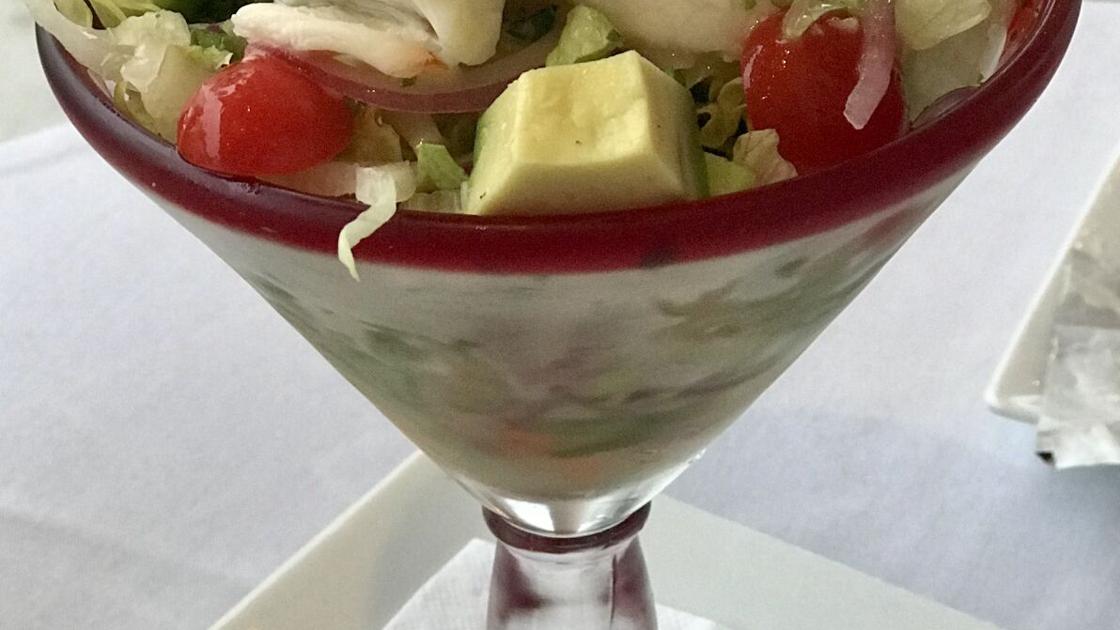 CAPT. BILL'S HOT SHAVES AND FRIED FISH
Ever since lockdown, there are two things people can't get enough of — haircuts and takeout.
Bill Rogner's got the first one covered. For nearly 40 years, he's cut a lot of hair in Punta Gorda and given many of its famous faces a hot shave.
His Captain Bill's Barber Shop is consistently voted number one in Charlotte County for old-fashioned value, quality services and a family-friendly hometown atmosphere. Back-to-school haircuts come with free candy, popsicles and a toy, no tears. Like Floyd's in Mayberry.
Rogner also owns the whole shopping center behind his peaked-roof, old-timey Tamiami Trail tonsorium.
So, when a computer store vacated the space to the left of the Domino's Pizza behind him, he sensed wider opportunity for a Captain Bill's brand.
"Everybody around here keeps asking about fresh seafood," Rogner said. "So I started thinking about that. Offering fresh, quality seafood at a reasonable price."
Sounds like a regular Captain Bill's formula.
Walk down back of the barber shop, and you'll find the same value, quality and warm, friendly atmosphere at his new spinoff, Capt. Bill's Hot Delicious Seafood, run by old-style home cook Kenesha Lynch and partner Darren Nobler.
If business is slow (less common with every passing day), Lynch might share stories about Punta Gorda 14 years ago; about running a southern-food restaurant in New York City; and about her mom in Jamaica, who taught her how to cook by just watching.
"I looove to cook," she'll say, with a soft, musical lilt.
Kenesha's mac and cheese is the kind you find in Caribbean kitchens — rich and golden with cheese. She makes what many call the best lobster bisque they've ever had, with chunks of Maine lobster and a little cayenne kick. Darren wields the air fryer for shrimp and oyster po' boys.
In fact, you can count on anything they fry being grease-free good-for-you.
There are jumbo shrimp, lobster, crab, scallops, crab cakes, mahi, cod, grouper, steamed mussels and clams, hush puppies and smoked mahi dip that tends to sell out. Steamed seafood trays include corn on the cob and hard-boiled eggs, Southern-style.
Call ahead; everything's made to order and there might be a line.
Capt. Bill's Hot Delicious Seafood ($$), 941-505-1449, 102 Rio Villa Drive (behind the barber shop at 3435 Tamiami Trail, to the left of Domino's), is open Monday to Thursday 11 a.m. to 7 p.m., Friday and Saturday to 8 p.m.
For five months, Carina Xu and Eric Lin, former owners of Port Charlotte's popular Fortune Garden Chinese restaurant, restricted their new restaurant — Big Bamboo Asian Fusion in El Jobean — to takeout only.
But that didn't stop them from garnering rave reviews ever since their May 1 opening day. Starting out with the same Chinese favorites as Fortune Garden's, they soon added sushi, tempura, Thai and poké bowls, and waited for 100% indoor seating.
Now Big Bamboo can for the first time take full advantage of its refreshing, bamboo-themed interior, while maintaining CDC guidelines as strictly as before.
Big Bamboo ($-$$), 941-763-8999, 4104 El Jobean Road, Port Charlotte, is open for dine-in and takeout Monday to Saturday 11 a.m. to 3 p.m. and 4 p.m. to 9 p.m., Sunday 4 p.m. to 9 p.m.
At the age of seven, Charles Amherst began plotting his career path. It wasn't culinary.
"I remember seeing high rises in a movie — something we didn't have in Haiti," he said.
He asked his father, "Why don't we have high rises?"
His father replied, "We aren't as developed as Paris or New York."
"What would it take to be like that?"
But after his father moved the family to the costlier climate of the United States, it became clear that architecture school wouldn't be an option. Undaunted, Charles set about finding a job, doing whatever it took to succeed.
Promoted step by step from dishwasher at a Miami restaurant, he was running the place by the age of 19 and started at Ruth's Chris Steak House at 23.
More promotions made him a Ruth's Chris regional chef, crisscrossing the country for 25 years opening new restaurants.
Ruth's Chris has exacting standards, so they made a good match.
Amherst is a perfectionist, cautious about taking next steps. Opening his Nokomis restaurant, Chaz 51 Steakhouse, in the evening, for instance, had to wait over a year, to ensure it was well known enough to attract a dinner crowd.
Its chefs, according to the menu, "seek to excite the palate, inspire the epicurean adventurer."
No ordinary eatery hidden in an industrial park would dare write such a description. But this is no ordinary eatery. A gourmet establishment with smooth jazz and sophisticated service, it's evolved over the past five years from café to bistro to fine steak and seafood house.
"We've been very successful," Chef Charles said. "But this year is a different animal."
Ironically, the restaurant that took years to open for dinner is now open only for dinner because its industrial-park lunch crowd vanished.
In February, Amherst began the process of opening in a more visible location. His dream, about to be realized, came to a screeching halt in March, when restaurant dining rooms closed.
"We had a great year until March, when we closed for six weeks. Now we're fighting to stay in business.
"We have a loyal clientele, but most left for the summer. We don't have foot traffic because of where we are. Season and a new location will, I think, solve all our problems."
The proud owner had never before asked for any kind of charity, but after he shared the financials with his staff, they convinced him to launch a GoFundMe campaign, spearheaded by manager Jill Gregory.
Never one to expect a free handout, Amherst feels compelled to give back to diners. Until Oct. 31, each table receives a gift envelope for an appetizer or dessert, bottle of wine, or dinner for one or two.
Chaz 51 ($$-$$$), 941- 484-6200, 103 Triple Diamond Boulevard (enter off Knights Trail Road), Nokomis, is open Tuesday to Sunday 3:30 to 8:30 p.m. Its GoFundMe is at gf.me/u/y23t5x.
Send restaurant and bar news and recommendations to columnist Sue Wade at [email protected]
Average price ranges are $ = inexpensive (under $10), $$ = moderate ($11-$30), and $$$ = pricey (over $30), including tip and beverage.